Welcome to The Village of Four Seasons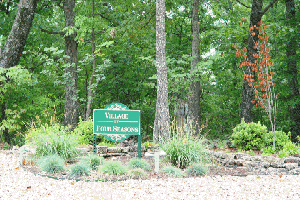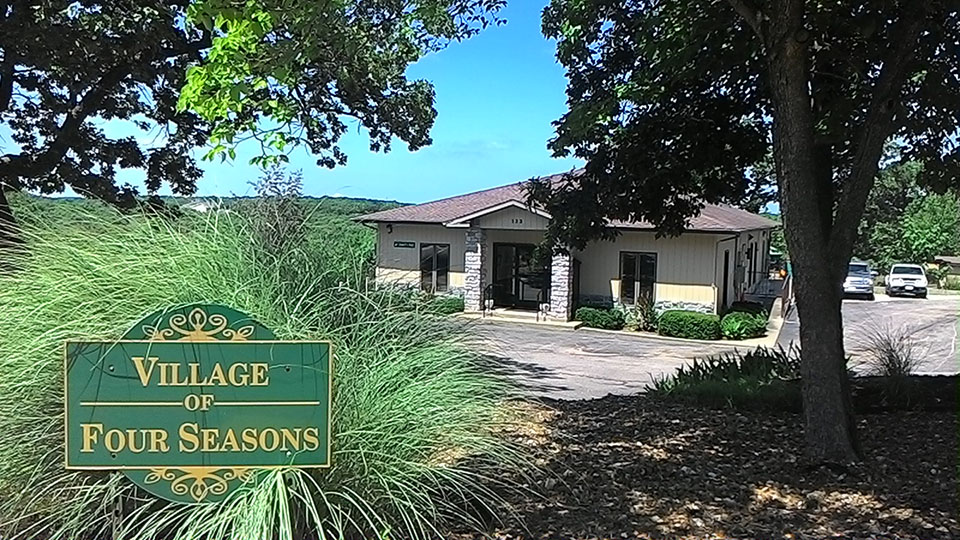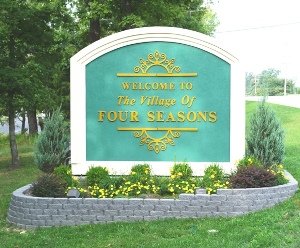 VILLAGE OF FOUR SEASONS BOARD OF TRUSTEES
REGULAR MEETING NOTICE
The Board of Trustees of the Village of Four Seasons will meet in regular session at 5:30 P.M. Wednesday, August 10, 2016 in the Village Hall located at 133 Cherokee Road, Four Seasons, MO. 65049
Phone:573-365-3833
 The meeting is open to the public in accordance with the provisions of Chapter 610, RSMo.610.010 to 610.030.  An agenda follows:
AGENDA
August 10, 2016
I.    Call to Order - Roll Call
II.    Pledge of Allegiance
III.  Open Session Consent Agenda 5:30 P.M.
 Approval of Minutes
-      July 13, 2016
-     Finance Report/Vice Chair
IV.  Reports- Functional Assignments
         a. Arnold Sandbothe - Personnel, POA Liaison, Licenses, Grants,
        b. Carolyn Loraine    - HBSRD, Policy Development, Law Enforcement, Office Equipment, Hiking & Biking Trails
          c. Dave Perdue -     Fire Dept. P&Z Admin./Bldg. Codes, Litter, Gardens, Parks, Streetlights, Bldg Permits,
d.  Ranita Jones -   Emergency Prep, Website, Newsletter, Ad Hoc Committee, Sirens
e. Jim Holcomb -     Commissions (P & Z, BOA) Community Planning/Public Relations, Legislative Affairs, CCPWSD#4
f.   Village Clerks Report -    
V.    Old Business - Wastewater/Septic Review
                                  Insurance Quote
VI.  New Business -
VII. Public Voice - Please sign in on Podium or Notify Clerk (5 minute limit)
VIII. Date of Next Meeting- Sept. 13, 2016 - Adjourn
IX.   Posted on the front door of The Village Hall at 9:00 A.M.  Friday, Aug. 5, 2016 per RSMo.610.020.1
 Disabled Persons:  If you should have needs address by the American with Disabilities Act, notify us at the address or telephone number shown at least one (1) week before the meeting you plan to attend.
ATTEST
_____________________
Janice Phegley, Clerk
Village of Four Seasons
 Village Hall Hours 
Monday - Friday 8 am - 4 pm
Phone: 573-365-3833
Village Administrator - Janice Phegley
email:

This email address is being protected from spambots. You need JavaScript enabled to view it.

 
If you would like specific information on any particular ordinance, please contact the Village Clerk.
Please be aware:
Political signs are permitted in all zoning districts for a period beginning not more than forty-five days (45) BEFORE a duly authorized election date. These signs shall be removed withing five (5) working days of the candidate's or issue's election or defeat, whichever comes first. Primary/General election dates shall be established by applicable federal, state or local law.
Commercial property for sale signs are allowed if you visit the Village Hall and apply for a permit to have posted on property for 15 days, up to five time per year. If they are not removed in a timely fashion, days over the periods will be added to the total for year.